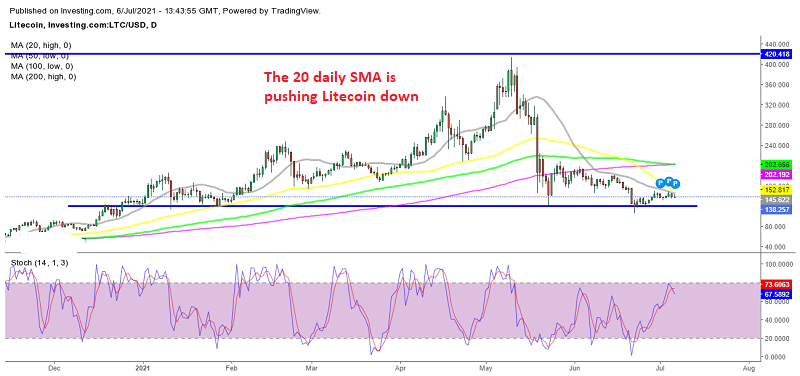 Litecoin is another cryptocurrency which has suffered some major losses during the big crash in May and the second leg in June. It was doing pretty well until the middle of May, being in the group of cryptos which continued the bullish trend until the middle of that month, while most of this market stopped making new gains since the middle of April.
Although, Litecoin couldn't make new highs and increase above 2017 highs of $420 and stopped short at $414. That was a sign that LITECOIN was going to fall out of love at some point and that didn't take long, before the big crypto crash came in June, as China started the crypto crackdown, closing Bitcoin mining farms.
Litecoin Live Chart
LTC/USD
This year has been extraordinary regarding high fees in some major cryptocurrencies. But Litecoin might've proved its worth, with it's relatively lower transaction and mining fees. For many, it became the cryptocurrency of choice for sending money around the world without paying an exorbitant fee.
Litecoin has managed to maintain strong active addresses over the past few months also, despite of the price drop. Yet, these positive factors are not helping Litecoin recover as it keeps making lower highs. Moving averages keep pushing it down, with the 20 SMA (gray) acting as resistance on the daily chart for about a month.
The highs keep getting lower as the 100 SMA pushes LTC/USD down
On the H4 chart above, the 100 SMA (green) has been the ultimate resistance since early May, pushing the highs lower and forcing Litecoin to break below the June low at $120. The price fell to $105 in June, but reversed up again, although we're not seeing any new highs.
The pace of the decline has diminished for now, which shows great uncertainty as no one is taking charge in either direction. We are following the price action and will try to go long on Litecoin near the first support at $108. Although, not after some consideration down there, because the price might slip to $105, which would be an even better place to go long, however, you can follow our signals page for live trades.